Background to the Level Crossing Risk Management Toolkit
In Great Britain (GB), public behaviour issues are now the largest contributor to train accident risk (source: Annual Safety Performance Report, RSSB 2013/2014). A significant proportion of this risk is attributable to errors and violations made at level crossings.
These errors and violations put crossing users in harm's way. A good understanding of these, and the human factors issues that influence them, is required in order to manage the risk that they represent.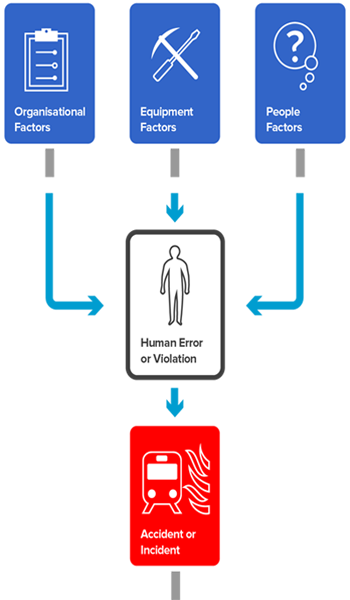 In 2006, RSSB commissioned the largest study completed to-date, into road user and pedestrian behaviour at level crossings in GB. The aim of the project was to manage level crossing risk and improve public safety through the development of practical guidance for the rail industry in the form of a Level Crossing Risk Management Toolkit (LXRMTK).
Drawing on sources from GB and abroad, the research sought to understand the reasons why level crossing users display violator and error behaviours - and why and how these behaviours lead to accidents.
LXRMTK is a web-based database that:
Promotes a performance-based understanding of road user errors and violations at level crossings
Enables the systematic evaluation of human factors issues at level crossings
Supplies practical guidance on the selection of appropriate risk mitigation measures at level crossings
Provides an audit trail for any decisions made regarding the implementation of risk reduction measures and supports the cost benefit analysis process
It has a range of applications, from being an information resource for anyone with an interest in public behaviour at crossings, to being used to support various more-specific activities.
People in the following roles may find LXRMTK useful:
Level Crossing Managers (LCMs, Network Rail) – to supplement the All Level Crossings Risk Model (ALCRM) by providing detailed information on managing human factors issues at high-risk crossings
Route Level Crossing Managers (RLCMs, Network Rail)
Operations Managers (Network Rail) - to supplement the risk assessment and inspection process by promoting a greater understanding of the risks associated with different crossing and user types
Office of Rail Regulation (ORR) – to assist with crossing inspections by providing detailed information on the relevant behavioural issues at different crossings and suggesting appropriate risk reduction measures
Accident/Incident Investigators (Rail Accident Investigation Branch – RAIB, Network Rail, RSSB) – to enable a systematic evaluation of the factors that may have contributed to accidents or incidents at crossings and suggests appropriate mitigation measures
External Consultants – contracted to conduct risk assessments at level crossings
Level crossing designers – to provide information on human factors issues and possible methods of risk reduction that should be taken into account during the design process
For more information about the development of the Level Crossing Risk Management Toolkit, please refer to the project report (T335)